Container Terminal Engineering Department
Container Terminal Engineering Department
(CTED)
SAIF Powertec Limited Container Terminal Engineering Department CTED) was established when Chittagong Port Authority procured four Mitsubishi Quay Gantry Crane in August 2005 and from then SAIF Powertec got the contract for Repair and Maintenance of those Crane. It was a challenging task for the company to keep the crane functional in all respect. Till then SPL continuing this task without any major trouble. Presently more 18 in no ZPMC brand QGC's repair and maintenance work also performing by CTED upon contractual agreement.
CTED, also, performing Repair and Maintenance works of a fleet of 36 (Make: 17 in no "Kalmar", 17 in no "ZPMC" & 02 in no "Liebherr" ) numbers of RTG (Rubber Tyre Gantry Crane), 5 in no MHC (Mobile harbor Crane) on contractual agreement. Besides CTED maintenance team rendering service for equipment repair to various ICD (Inland Container Depot) as well. .
Apart from that CTED also performing repair and maintenance works of their own Port handling equipment like FLT, RST, Terminal Tractor) etc.
At present CTED running by Experienced Engineers and Technicians and also some foreign experts.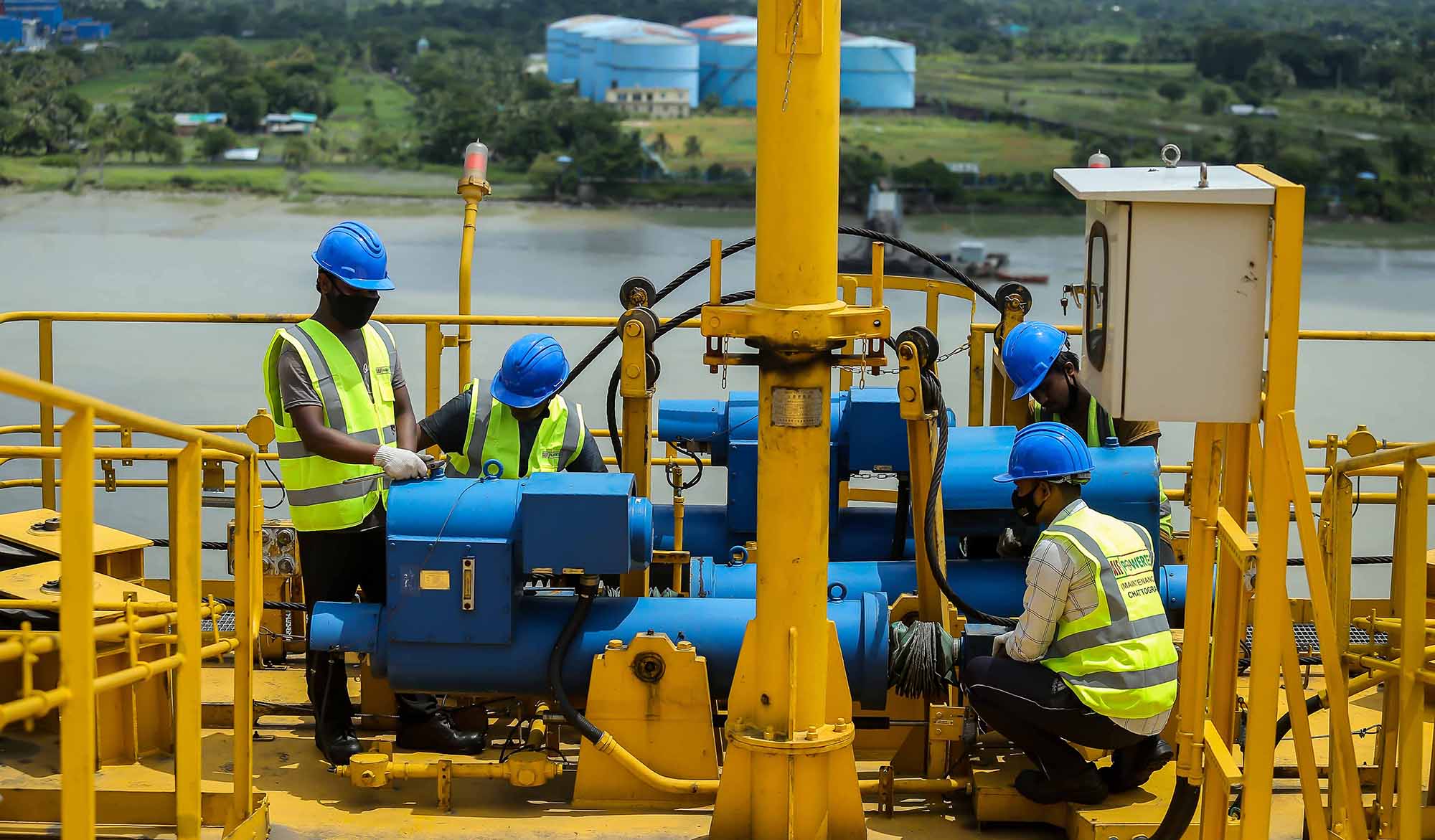 On contract for Repair & Maintenance of QGC/ RTG/MHC (CPA)
MHI Quayside Gantry Crane : 04 .
ZPMC Quayside Gantry Crane : 14
ZPMC Rubber Tyred Gantry Crane : 17
Kalmar Rubber Tyred Gantry Crane : 17
Liebherr Rubber Tyred Gantry Crane : 02
Liebherr Mobile Harbor Crane : 05
Maintaining company owned Port Handling Equipments
Empty Container Handler (FLT) : 07 .
Prime movers and Trailers : 120
Forklift : 09
RST (Load) : 02
Aim and Objective Of CTED
To achieve the best performance on QGC, RTG, and company owned port handling equipments (RST, FLT, Prime Mover)
To get highest operational output by reducing equipments breakdown
To provide equipments maximum efficiency by execution of planned maintenance and least possible cost and time
To ensure equipment demand by operation department as and when asked for